Perspective Update | August 2022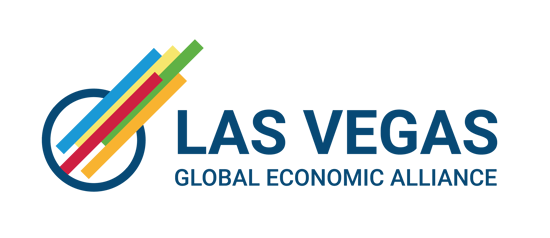 Education and talent development are essential components of economic development. As Las Vegas moves towards diversifying its economy post-pandemic, LVGEA continues to work alongside our education and workforce training partners to create programs that align the higher-skilled needs of employers with educational opportunities.
In this education edition of the Perspective Update, you'll find insightful commentary from LVGEA50 Board member and President of UNLV, Dr. Keith Whitfield, who emphasizes the need for innovation to fuel the region's future.
Plus, keep your finger on the pulse of education with our community survey results. You'll also find updated market information below, and an economic update from Applied Analysis' Brian Gordon.
Fueling Our Future Through Innovation
In late January of 2020 – just weeks before a mounting COVID-19 pandemic would shut down the world – UNLV opened Black Fire Innovation at the university's Harry Reid Research & Technology Park in southwest Las Vegas.
A who's who of tech leaders, elected officials, researchers and community leaders gathered to celebrate UNLV's new four-story innovation accelerator, which – in partnership with Caesars Entertainment – paired academic research and industry together like never before in a high-tech proving ground for new concepts in gaming, hospitality, esports, and entertainment. Many in attendance heralded Black Fire, with its mix of research, office, and co-working spaces, as the springboard to a new era of economic development in Southern Nevada.
The pandemic may have had other plans for the Nevada economy in 2020, but the seeds of momentum born that day continued.
In fact, Black Fire became a place where COVID-era innovation sprang to life. There, UNLV researchers and a growing number of industry partners – including Caesars, Intel, Panasonic, Nutanix, Adobe, and more – tested technology to remotely disinfect hotel rooms, protecting both guests and staff. They pushed the limits of innovation by partnering with the Lee Family Foundation and the Lee Business School on a competition to spur hospitality innovation – including a promising idea for fully recyclable bed sheets – and help drive a post-pandemic Las Vegas economy.
Elsewhere in the building, UNLV's Small Business Development Center staff worked with hundreds of local entrepreneurs and small business owners to navigate state and federal funding opportunities, move operations online, adjust business plans, and give them the boost they needed to power through the pandemic storm and keep their companies afloat.
Since joining UNLV in August of 2020, I've been committed to supporting my economic development team, our researchers, and dozens of dedicated public and private industry partners. They're working together to fuel what is now, two-plus years later, Southern Nevada's economic renaissance.
Universities often talk about economic development, but it's not always so easy to see it happening "in action." Black Fire is different. There, you can witness – often from the moment you step inside – student and faculty innovation being tested alongside emerging technology from more than 100 of the world's top companies and thriving startups.
Black Fire is an incredible facility filled with remarkably talented professionals that exemplifies the potential of UNLV's research and economic reach.
And Black Fire is just one example. Throughout our campuses on Maryland Parkway and Shadow Lane, at the UNLV Incubator at Hughes Center – and at Black Fire in the Harry Reid Research and Technology Park – we're engaged in research and economic development that works for Nevada.
Take cybersecurity, for example. In the last couple years, we've launched academic and professional certificate programs in this high-need, high-impact field, and we've taken it a step further by pairing faculty and students with our Small Business Development Center to offer a free cybersecurity clinic for small business owners. In physics, the UNLV team responsible for unlocking the mystery of room-temperature superconductivity – a boon for a clean, efficient energy future headquartered in Southern Nevada – continues to inch its world-changing work closer to reality from a lab here on the Maryland Parkway campus. And just two buildings over, our educators are tackling the chronic teacher shortage by pioneering new ways to fill K-12 classrooms with dedicated school paraprofessionals by creating a pathway for them to complete their bachelor's degrees and become licensed teachers.
It's these programs, and many more like it, that show how UNLV is adapting to support a post-pandemic Nevada. Our goal is to be nimble to workforce and industry needs and laser-focused on developing more innovation, new businesses, and dynamic educational experiences for our students.
Black Fire represents what's possible when motivated people from the public and private sectors come together with a passion to do something that's never been done before. When innovative minds meet, it's an exciting thing to see. As I think about what's been achieved in just a couple of years at Black Fire, and throughout our footprint in Southern Nevada, I get goosebumps imagining how UNLV and our partners can have this same impact in healthcare innovation, sports research, and other areas that will help to ensure that we diversify our economy as we continue to rebuild it.
I'm certain that the crowd gathered for Black Fire's opening in early 2020 had no idea what would be in store for our community, and the world, just weeks later. But I do know this: the promise they saw in UNLV and the power of partnership that day is now being realized.  Great cities have great universities and UNLV is answering the call for Las Vegas and Southern Nevada.
This community survey examined opinions and attitudes of the Southern Nevada workforce testing sentiments around our region's education. This web-based survey was commissioned by Las Vegas Global Economic Alliance and conducted in Spring 2022.
Since this survey is intended to poll the Clark County workforce, results remove self-selected retirees and unemployed workers as well as self- selected residents of other counties. The sample size of the survey is 500 with a margin of error of +/- 3.7 percent at the 90 percent confidence interval.
Updated Regional Economic Statistics
The Southern Nevada economy continues its positive growth trend in 2022 as the region heads into fall and students prepare to return to school. Major economic indicators have seen noteworthy increases, with multiple categories, including employment, exhibiting signs of full recovery from the height of the COVID-19 pandemic.
As of June 2022, total employment was 1,054,400, a net increase of 77,100 jobs on the year (+7.9 percent). Employment has exceeded pre-pandemic levels by 4,700, concurrent with national trends, which also recently surpassed pre-COVID-19 levels. Recovery among industries is mixed. Leisure and hospitality (-17,400), government (-11,200) and other services (-3,800) remain the only three sectors below pre-pandemic levels. On the other hand, manufacturing, education and health services, professional and business services and financial activities experienced record employment during the last several months.
Further, average weekly wages currently exceed pre-pandemic levels by $123 and also recently reached an all-time high of $986 in May 2022. Although overall an encouraging sign, it should be noted that the labor force is still down nearly 30,000 people from February 2020, underscoring increased retirements, a possible reluctance to return to work and the necessity for increasing wages. Further emphasizing this point is the statewide labor force participation rate, which stands at 60.2 percent or -3.6 points below February 2020.
Consumer spending trends have continued to show robust growth, although the trajectory of the trendlines appear to be slowing. Taxable retail sales totaled $59.1 billion in May 2022 (trailing-twelve-months), a 27.9 percent increase from the prior year. Monthly sales have exhibited sustained positive growth for the last 15 months but appear to be gradually cooling off. Specifically, the monthly taxable retail sales in Clark County have been growing at an average of 1.4 percent per month during this year compared to 2.4 percent in 2021.
Key visitation metrics demonstrate that the tourism industry is steadily moving forward. Las Vegas visitation topped 37.3 million in June (trailing twelve-month total), a significant increase (+63.8 percent) from the prior year. The latest visitor volums are within about 12 percent of pre-pandeimic (2019) levels. Notably, midweek occupancy rates reached 80.0 percent (June 2022), the highest level seen since February 2020. Weekend occupancy rates dropped slightly from the previous months but maintained a 4-month streak at or above 90 percent. Gross gaming revenue continued its hot streak, with June marking the third month this year that gaming win exceeded $1.0 billion. Largely driving these growth trends is the Las Vegas Strip, which collected $734.8 million in total revenue during June, representing a 22.7 percent year-over-year increase. The local and downtown gaming markets have remained elevated but can moderate in any given month given the timing of the calendar.
National 30-year fixed mortgage rates began to increase in earnest during 2022 and have exceeded 5 percent for the last three consecutive months. The current rate of 5.4 percent represents a 2.5-point increase since July 2021. Southern Nevada's housing market has begun responding to these changes. While single-family median home prices rose to a new high in May 2022 ($482,000), June marked the first time in over two years (25 months) that prices fell from the previous month ($480,000, -0.4 percent), with the trend continuing into July ($465,000, -3.1 percent). However, year-over-year growth rates remained in the double-digit range. Sales volumes have also been consistently declining this year, with July numbers exhibiting a decrease of 38.4 percent year over year. Overall, the number of units sold over the first seven months of 2022 totaled 18,989, a 16.5 percent decrease compared to 2021. The shift has resulted in rising inventory levels.
The Southern Nevada economy has made gains in several notable categories, including employment surpassing pre-pandemic levels and tourism continuing to make great strides. However, other recent performance measures, such as the housing market and consumer spending, are starting to show signs of settling as outside pressures such as inflation and rising interest rates continue to play a role. As the region heads into the second half of the year, it will be important to monitor potential headwinds, including inflation trends, rising interest rates, supply chain challenges and concerns about national recessionary conditions.
This newsletter is made possible with the support of our PERSPECTIVE Council: